In This Issue
Annual Meeting and Picnic – May 29th, 2021
Board Elections
"No Show" Shirts and 60th Anniversary Swag 
Membership
Upcoming Events
Annual Meeting & 60th Anniversary Picnic
Sudbury Savoyards' Picnic and 60th Anniversary Picnic:
May 29th 11:30am-4:00pm, Camp Sewataro in Sudbury, MA
Register now to join us for the Sudbury Savoyards' Annual Meeting and Picnic! We are thrilled to be holding an "in-person" event for the first time in more than a year. Bring your own picnic and enjoy an afternoon of socializing ("safely distanced" of course), picnicking, and celebrating 60 years of The Sudbury Savoyards.
Location: the open-sided pavilion and adjoining grassy lawn at Camp Sewataro, 1 Liberty Ledge, Sudbury (directions on our webpage and included when you register). The Annual Meeting portion of the event will also be available remotely via Zoom (detailed being finalized).
Registration deadline, May 27th
While the event is free of charge, pre-registration is required to ensure adequate spacing for COVID safety. Please also pre-register to receive the Zoom invitation for remote participation.
Masks are required. Bring your own food & beverages, hand sanitizer, and blanket and/or chairs if you want to picnic on the adjacent lawn. Tables and chairs will also be available in the pavilion. Carry in/carry out: you will be asked to remove your own trash.  No alcohol, no pets, and no smoking per order of Camp Sewataro. Handicapped accessible.
Picnic & Meeting Schedule:
11:30 am: Gate opens
12:00-1:30 pm:  Picnic and socializing
1:30pm: Annual Meeting (draft agenda)
State of the Company and Financial Report
Board Election
Yeoman of Regard Presentation
60th Presentation & Video
The Grand Duke Introductions
4:00pm: Event closes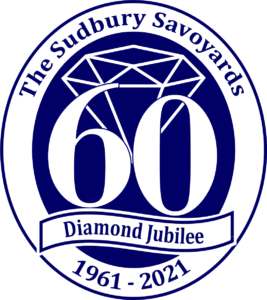 Board of Trustees Election
On May 29, 2021, Sudbury Savoyards will hold its Annual Meeting and announce the results of the election of Board of Trustees. The election will be held online before the meeting; current members eligible to vote will receive a ballot via email. (Per our bylaws, only individuals who have been members for 30 days prior to the meeting may vote in trustee elections.) Look for candidate bios on the Board page by Wednesday, May 19th. 
"NO SHOW" Shirts and 60th Anniversary Swag
Be well dressed for our Annual Meeting, your next Zoom meeting, or trip to the grocery store! Check our new Cafe Press "shop" with 2021 "NO SHOW" shirts and 60th Anniversary swag. T-shirts, sweat shirts, mugs, masks… 
Join or Renew Membership 
If you haven't already, renew your membership or join for the first time! Your membership does not renew automatically, so we ask you to "opt in" once a year, even when member fees have been waived.
Upcoming

Events

October 3, 2012: Fundraiser Gala at Sandy Burr in Wayland, MA
Fall 2021 (TBA): Two Ring (Season-Opening Party)
Fall 2021 (TBA): Auditions for The Grand Duke
February 2022 (TBA): The Grand Duke, at Lincoln/Sudbury Regional, Sudbury, MA