Patience, or Bunthorne's Bride
Performance were February 19th to 28th 2015
All performances take place at:
Lincoln-Sudbury Regional High School
Stage Director: James Ravan
Music Director: Kathryn Denney
Choreographer: Judy Erickson
Producer: Susan Elberger
Technical Director: Brendon Chetwynd
Featuring
Ann Ferentz as Lady Angela
Johanna Shriver as Lady Saphir
Katrina Skidmore as Lady Ella
Mary Finn as Lady Jane
Connell Benn as Patience
Tony Parkes as Colonel Calverley
Randy Glidden as Major Murgatroyd
Brad Amidon as Duke of Dunstable
Dennis O'Brien as Reginald Bunthorne
Ben Morse as Archibald Grosvenor
John Gorgone as Mr. Bunthorne's Solicitor
Laurel Martin as Dr. Roberta Sullivan
Jon Saul as Oscar Wilde
Pamela Ryba – Assistant 1
Ellen Simmons – Assistant 2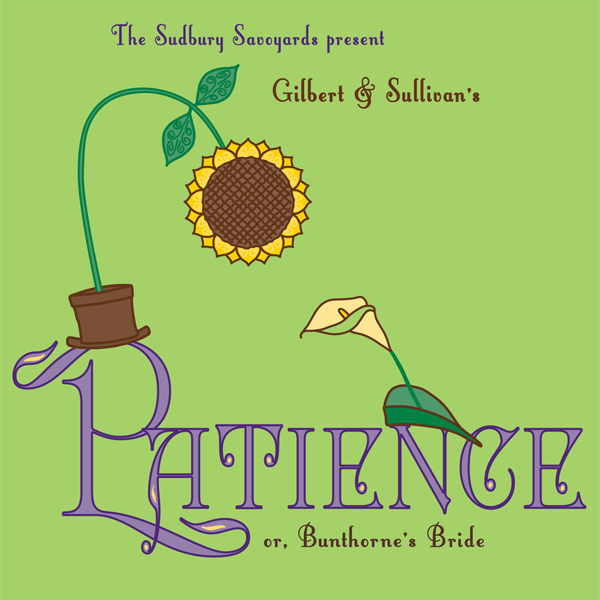 Chorus
David Baldwin, Susan Beckett, Elisabeth Bennett, Herschel Clopper, Phyllis Clopper, Jamieson Cobleigh, Jennifer Dohm, Chris Fanger, Sue Flint, Catherine Glidden, John Gorgone, Jane Graham, Laura Jacobson, Bill Johnson, Laura Lawson, Laurel Martin, Linnea Martin, Rich Olsen, Tom Ostrowski, Mei-Lin Po, Tom Porcher, Karen Powers, Martin Reiss, Mary Jo Reiss, Susan Robinson, Jon Saul, Ellen Simmons, Peter Welsh, Marla Zucker
About Patience
Patience opened on April 23, 1881 at the Opera Comique and ran for 578 performances, moving on October 10, 1881 to D'Oyly Carte's new theater, The Savoy, the first theater in the world to be lit entirely by electric lights.
The sixth collaboration of the famous Gilbert and Sullivan duo, it had the longest run of any work of musical theater up to that time. The Sudbury Savoyards first performed Patience in 1972 and, under the direction of Stage Director James Ravan of Lowell, it is now being presented for the fifth time in Sudbury's 54-year history.
When this work was first produced, a theatergoer could walk down London's streets and see Oscar Wilde and the aesthetic poets strolling beside him in their "medieval affectations" and "carrying a tulip or lily". The Grosvenor Gallery, for which one of the two characters is named, was just up the street and holding an exhibit of Aesthetic Art.
William S. Gilbert's biting pen satirizes the aesthetic movement of populist art that venerated all things classical, medieval and Grecian. If it was not contemporary, the aesthetics loved it. All the well-born ladies in the village, rapturously caught up in aestheticism, are in love with the two contrasting poets – one being a "fleshly poet" and the other an "idyllic poet". But the poets are in love with Patience, the simple village milkmaid, who cares nothing for poetry. The ladies' military suitors don't see the point to aesthetics but they decide to give it a try in order to win the women's hearts.
Translating the operetta to the 21st century is a bit trickier. In modern eyes, the aesthetic poets are pop culture icons, perhaps the winners of "American Idol". The women consider them celebrities in the culture of the moment, a rather recent concept in the Victorian mindset. And in typical Gilbert & Sullivan topsy-turvey fashion, it is touch and go for a while, but in the end everyone ends up with a suitable partner (even if it is only a tulip or lily).
Sir Arthur Sullivan composed a score that sparkles and dances throughout, while the Act I finale soars to a climax that is one of his grandest and most beautiful. A full orchestra and large ensemble cast is under the direction of Music Director Kathryn Denney of Marlborough, who earned a DASH/ Distinguished Achievement and Special Honors Award for Best Musical Direction for last year's production of The Pirates of Penzance by EMACT/Eastern Massachusetts Association of Community Theatres.