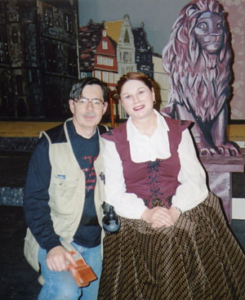 ndividually, and as a couple, Ron and Janice have contributed their extraordinary talents and expertise in the major areas of costume design and construction, as well as set design, engineering and construction. Quite often Janice is performing on-stage while husband Ron is behind the scenes making things work smoothly.
The Dallas's joined the Sudbury Savoyards in 1987 and quickly became engulfed in all the aspects necessary for creating successful performances, frequently contributing from their own small theatrical design and construction company. Janice, a care-giver by day, would blossom into a performer by night. In the technical area, Ron would often multi-task as a set and/or lighting designer, master electrician, master rigger, technical consultant, assistant costume designer, wardrobe assistant, and even figure out on-stage plumbing when required.
Without the talents of Ron and Janice Dallas, individually or combined, the Sudbury Savoyards would not be as we know it today.
| YEAR | PRODUCTION | ROLE |
| --- | --- | --- |
| 1987 | Iolanthe | Set Construction Crew |
| 1988 | Utopia, Ltd. | Set Construction Crew, Properties Crew |
| 1989 | HMS Pinafore | "Special Thanks" |
| 1990 | Ruddigore | Assistant Technical Director |
| 1992 | The Sorcerer | Set Designer |
| 1994 | Patience | Costume Design Consultant |
| 1995 | The Mikado | Assistant Costume Designer |
| 1996 | Princess Ida | Set Designer, Lighting Designer, Costume Construction Crew |
| 1998 | Trial by Jury / HMS Pinafore | Costume Construction Crew, Publicity Photographer |
| 1999 | Iolanthe | Set Construction Crew, Costume Construction Crew |
| 2000 | Ruddigore | Costume Construction Crew |
| 2001 | The Gondoliers | Costume Construction Crew |
| 2001 | Fortieth Anniversary: Places, Please and Trial by Jury | Lighting Designer |
| 2002 | The Sorcerer | Assistant to Master Electrician, Wardrobe Assistant, Set Construction Crew, Costume Construction Crew, Lighting Crew, Photographer |
| 2002 | 4th of July Parade | Transportation and Sound Engineer |
| 2003 | Patience | Master Rigger, Lighting Crew, Wardrobe Assistant, Costume Construction Crew, Photographer, Fountain Procurer, "Special Thanks" |
| 2004 | The Pirates of Penzance | Technical Advisor, Master Rigger, Lighting Crew, Set Construction Crew, Wardrobe Assistant, Stage Crew |
| 2004 | The Boys Next Door | Plumbing Realization |
| 2004 | 4th of July Parade | Sound Technician |
| 2005 | The Mikado | Technical Advisor, Master Rigger, Set Construction Crew, Lighting Crew, Stage Crew |
| 2005 | 4th of July Parade | Float Construction, Sound Technician |
| 2005 | The Matchmaker | "Special Thanks" |
| 2006 | The Grand Duke | Set Engineer, Set Construction Crew, Photographer |
| YEAR | PRODUCTION | ROLE |
| --- | --- | --- |
| 1987 | Iolanthe | Chorus of Fairies, Costume Construction Crew, Set Construction Crew, Props Crew |
| 1988 | Utopia, Ltd. | "Salata," a Utopian Maiden, Costume Construction Crew, Properties Crew |
| 1992 | The Sorcerer | Costume Designer, Chorus |
| 1994 | Patience | "The Lady Ella", Costumer Designer |
| 1995 | The Mikado | Chorus, Costume Designer |
| 1996 | Princess Ida | Chorus, Costume Designer |
| 1996 | Charley's Aunt | Costume Construction Crew, "Special Thanks" |
| 1997 | The Yeomen of the Guard | Chorus, Costume Designer, Costume Rental Agent |
| 1998 | Trial by Jury / HMS Pinafore | Costume Construction Crew, Publicity Photographer |
| 1999 | Iolanthe | Chorus, Costume Designer |
| 2000 | Ruddigore | Costume Construction Crew |
| 2001 | The Gondoliers | Costume Construction Crew |
| 2001 | Fortieth Anniversary: Places, Please and Trial by Jury | Chorus |
| 2002 | The Sorcerer | Chorus, Costume Construction Crew, "Special Thanks" |
| 2003 | Patience | Costume Construction Crew, Wardrobe Assistant, "Special Thanks" |
| 2004 | The Pirates of Penzance | Costumer Consultant, Wardrobe Assistant, Costume Construction Crew |
| 2005 | The Mikado | Costume Consultant |
| 2006 | The Grand Duke | Chorus, Costume Construction Crew |
Induction Ceremony - March 4, 2006