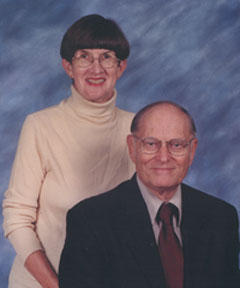 Roy Paro fell in love with GandS as a college student when he saw Kenny Baker (remember Jack Benny?) as Nanki-Poo in the old Essex Theater in Boston, so he was delighted when the Sudbury Methodist Church Choir presented Trial by Jury in 1961. Bev Paro started by selling program ads to help raise funds to dig the foundation hole for the church sanctuary.
The GandS bug bit both of them, so in1962 Roy and Bev served as Co-Chairmen for the Savoyards' first performance of The Mikado at the Sudbury Town Hall.
By 1966 they were both selling tickets, painting sets, soliciting for ads, and in 1966 Roy joined the chorus of The Yeomen of the Guard. Individually, Bev has assisted the Director, co-chaired costumes, wrestled for rehearsal space, and helps out as House Staff. Roy served as Ticket Chief for a number of years and was Second Trombone to the Board of Trustees. Together, they have headed up Publicity, Ticket Sales, and sold Playbill Ads over these many years. They continue to paint sets together while in 2005, Roy is singing in his 40th Sudbury Savoyard production.
| YEAR | PRODUCTION | ROLE |
| --- | --- | --- |
| 1962 | The Mikado | Co-Chairman of the Savoyards for the Sudbury Methodist Church Building Fund |
| 1963 | The Pirates of Penzance | Set Construction, Stage Crew |
| 1966 | The Yeomen of the Guard | Chorus of Yeomen, Ticket sales |
| 1967 | Iolanthe | Chorus of Peers, Ticket Sales |
| 1968 | Ruddigore | Chorus of Ancestors |
| 1969 | The Mikado | Chorus, Ticket Sales |
| 1970 | Princess Ida | Chorus, Ticket Sales |
| 1971 | The Gondoliers | Chorus, Ticket Sales |
| 1972 | Patience | Chorus, Ticket Sales |
| 1973 | The Pirates of Penzance | Chorus, Ticket Sales |
| 1974 | Trial By Jury / HMS Pinafore | Chorus, Ticket Sales |
| 1975 | The Yeomen of the Guard | Chorus, Ticket Sales |
| 1976 | The Sorcerer | Chorus, Set Construction, Playbill, Ticket Sales |
| 1977 | Iolanthe | Chorus, Publicity |
| 1978 | The Mikado | Chorus |
| 1979 | Ruddigore | Chorus, Publicity |
| 1980 | The Gondoliers | "Annibale" and Chorus |
| 1981 | The Pirates of Penzance | Chorus |
| 1982 | Princess Ida | Chorus, Publicity, Ticket Sales |
| 1983 | Cox & Box/HMS Pinafore | Chorus, Ticket Sales |
| 1984 | Patience | Chorus |
| 1985 | The Yeomen of the Guard | "Second Citizen" and Chorus, Playbill Ads |
| 1986 | The Mikado | Chorus |
| 1987 | Iolanthe | Chorus, Playbill Ads |
| 1988 | Utopia, Ltd. | Chorus, Set Painting, Ticket Group-Sales Agent |
| 1989 | HMS Pinafore | Chorus, Set Painting, Playbill Ad Sales |
| 1990 | Ruddigore | Chorus of Ancestors, Set Construction and Painting |
| 1991 | The Gondoliers | Chorus |
| 1992 | The Sorcerer | Chorus, Set Construction and Painting |
| 1993 | The Pirates of Penzance | Chorus, Set Construction and Painting, Lighting Crew |
| 1994 | Patience | Chorus |
| 1995 | The Mikado | Chorus, Set Construction and Painting, Lighting Crew |
| 1996 | Princess Ida | Chorus, Set Construction and Painting |
| 1997 | The Yeomen of the Guard | Chorus, Set Construction and Painting, Lighting Crew |
| 1998 | Trial by Jury / HMS Pinafore | Chorus, Set Construction and Painting, Lighting Crew |
| 1999 | Iolanthe | Chorus of Peers, Ticket Chief, Set Construction and Painting |
| 2000 | Ruddigore | Chorus, Ticket Chief, Set Construction and Painting |
| 2001 | The Gondoliers | Chorus, Nominating Committee, Set Construction and Painting |
| 2002 | The Sorcerer | Chorus, Second Trombone to the Board of Trustees, Set Construction and Painting |
| 2003 | Patience | Chorus, Second Trombone to the Board of Trustees, Nominating Committee Chairperson, Yeomen of Regard Committee, Set Construction and Painting |
| 2004 | The Pirates of Penzance | Chorus, Nominating Committee Chairperson, Set Construction and Painting |
| 2005 | The Mikado | Chorus, Set Construction and Painting |
| YEAR | PRODUCTION | ROLE |
| --- | --- | --- |
| 1962 | The Mikado | Co-Chairman of the Savoyards for the Sudbury Methodist Church Building Fund |
| 1963 | The Pirates of Penzance | Program Committee |
| 1964 | The Gondoliers | Playbill Ad Sales, Program Arrangement, Cast Refreshments |
| 1966 | The Yeomen of the Guard | Advertising, Ticket Sales |
| 1967 | Iolanthe | Ticket Sales |
| 1968 | Ruddigore | Ticket Sales |
| 1969 | The Mikado | Advertising, Ticket Sales |
| 1970 | Princess Ida | Assistant to the Directors |
| 1971 | The Gondoliers | Assistant to the Directors, Ticket Sales |
| 1972 | Patience | Ticket Sales |
| 1973 | The Pirates of Penzance | Ticket Sales |
| 1974 | Trial By Jury / HMS Pinafore | Ticket Sales |
| 1975 | The Yeomen of the Guard | Ticket Sales, Sales Promotion |
| 1976 | The Sorcerer | Ticket Sales |
| 1977 | Iolanthe | Publicity |
| 1979 | Ruddigore | Ticket Sales |
| 1980 | The Gondoliers | Ticket Sales |
| 1981 | The Pirates of Penzance | Ticket Sales |
| 1982 | Princess Ida | Costume Coordinator, Costume Crew, Ticket Sales |
| 1983 | Cox & Box / HMS Pinafore | Costumes, Ticket Sales |
| 1984 | Patience | Costumes |
| 1986 | The Mikado | "Special Thanks" |
| 1987 | Iolanthe | "Special Thanks" |
| 1988 | Utopia, Ltd. | "Special Thanks" |
| 1989 | HMS Pinafore | Set Painting |
| 1990 | Ruddigore | Set Painting, Sign Painting, "Special Thanks" |
| 1991 | The Gondoliers | Set Painting, Sign Painting |
| 1993 | The Pirates of Penzance | Set Painting, Sign Painting, "Special Thanks" |
| 1995 | The Mikado | Set Painting |
| 1996 | Princess Ida | Set Painting |
| 1997 | The Yeomen of the Guard | Set Painting |
| 1998 | Trial by Jury / HMS Pinafore | Set Painting |
| 1999 | Iolanthe | Assistant Ticket Chief, Set Painting |
| 2000 | Ruddigore | Assistant Ticket Chief, Set Painting |
| 2001 | The Gondoliers | House Staff |
| 2002 | The Sorcerer | Set Painting |
| 2003 | Patience | Set Painting, House Staff |
| 2004 | The Pirates of Penzance | Set Painting, House Staff |
| 2005 | The Mikado | Set Painting |
Induction Ceremony - March 5, 2005