The 2019 Summer Show
Directed by Jake Lewis
July 19 - 27, 2019
Gala Fundraiser - June 14, 2019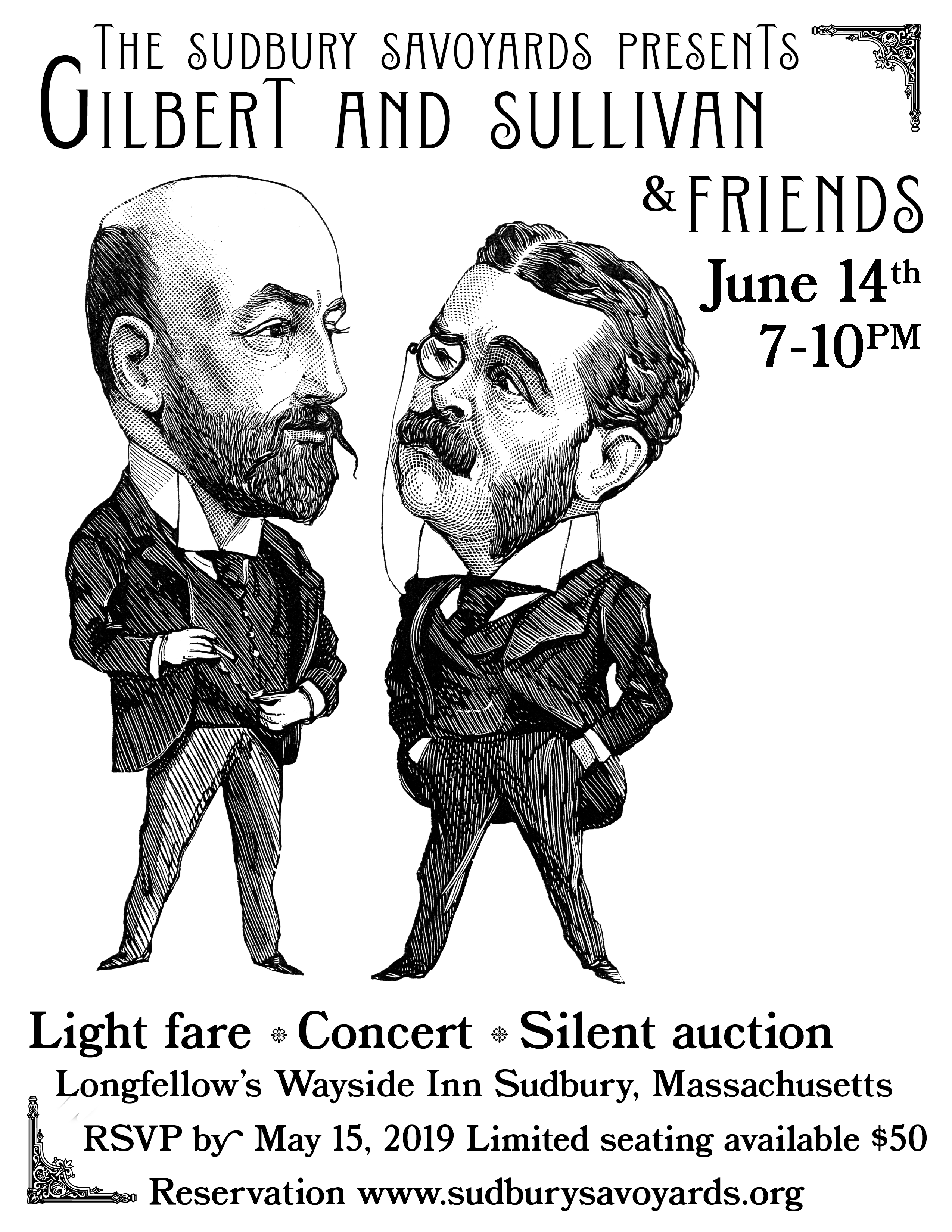 We will gather to celebrate 58 years of community theater that is available to all, accessible to all, and presented on a Grand Scale. Upstairs in the historic Ballroom, listen to string quartets as you enjoy passed hors d'oeuvres, help yourself to the cash bar, and explore the wonderful silent auction offerings from our donors. Then take a seat at the table, watch some of our fabulous actors wow you with their voices and humor, sharing Gilbert and Sullivan favorites and some of the important influences of their music. New works from the woodwind players of our orchestra will knock you off your feet. A cup of coffee and a delightful selection of desserts, and your evening is complete.
Tickets are still available!
Purchase Gala Tickets
The 2019 Annual Meeting - June 17 at 7:30 PM
The Annual Meeting of The Sudbury Savoyards will be held on Monday, June 17, 2019 at 7:30 PM at the First Baptist Church in Sudbury.
Complete details about the Annual Meeting
Fundraising Campaign
The Sudbury Savoyards has become a non-profit organization. As our company embraces the opportunities that come with independence, we also face a variety of challenges, including new expenses for storage space, work space, and rehearsal space; professional service fees; and more. We are turning to you, our friends and donors, as we launch our inaugural fundraising campaign, in the hope of ensuring that "Gilbert and Sullivan on a Grand Scale" can continue well into the future. For more information, please click here or
to make an immediate donation.
Membership
Become a member of The Sudbury Savoyards, Inc.!
Support the Savoyards when you shop at Amazon!
The Sudbury Savoyards will benefit from your purchases at Amazon if you start at AmazonSmile! Just start with the link below and connect The Sudbury Savoyards to your account and Amazon will donate .5% of your eligible purchases to the Savoyards.
Shop at AmazonSmile
Keep yourself informed
There are several ways to get information about Sudbury Savoyards events.
Sign up to receive our e-newsletter, The Sandwich Board.
Check our website frequently.
---
For general questions about The Sudbury Savoyards:

Problems with the web site?

---
Our Supporters