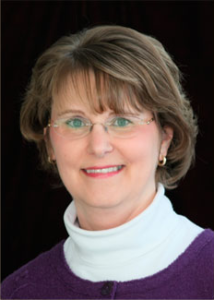 If there ever was one born to be a Savoyard, it is our 2009 Yeoman of Regard, Andrea Roessler.
Andrea was brought up in Sudbury, the Sudbury United Methodist Church, and attended LSRHS (where she was a theater geek). While many of her friends parents were active Savoyards, one had to be 16 before appearing on-stage in the annual G&S production, but that didn't stop her from being a back-stage brat with her friends. In 1976 she appeared in her first production, The Sorcerer, then off to college, back on-stage in 1983, then again in 1990, returning this time for keeps, having taken a role – and invariably a significant role – in every Savoyard production ever since.
In addition to appearing in the chorus of most productions she has served as Producer, Set Designer, Playbill Chief, Publicity Chief, and served two terms on the Board of Trustees. Andrea also created the position of Company Archivist, initiated the Fourth of July Parade Floats, established the Lobby Gift Shoppe, and Co-Chairs the Fall Craft Fair.
But as with many of our honored Yeomen, it is not just a long and faithful term of service that earns Andrea her honor this year, but the depth, commitment, imagination, and leadership during those years that characterize her participation, without which the Savoyards would not be the organization we are today.
| YEAR | PRODUCTION | ROLE |
| --- | --- | --- |
| 1976 | The Sorcerer | Chorus |
| 1983 | Cox & Box/HMS Pinafore | Chorus |
| 1990 | Ruddigore | Chorus, Costume Construction, Make-up Crew |
| 1991 | The Gondoliers | Chorus, Costume Construction, Make-up Crew |
| 1992 | The Sorcerer | Chorus, Costume Construction |
| 1993 | The Pirates of Penzance | Chorus, Costume Crew, Social Director |
| 1994 | Patience | Chorus, Costume Construction |
| 1995 | The Mikado | Chorus, Costume Construction, Co-Social Director |
| 1996 | Princess Ida | Chorus, Costume Construction, Created position of Company Archivist |
| 1996 | Charley's Aunt | Publicity Crew, Usher |
| 1997 | The Yeomen of the Guard | Chorus, Costume Construction, Playbill, Publicity |
| 1998 | Trial by Jury / HMS Pinafore | Bridesmaid (Trial), Chorus (Pinafore), Playbill Layout, Asst. Set Designer, Printer Liaison, Publicity Crew |
| 1998 | The Importance of Being Earnest | Costume, Crew, Publicity Crew, "Special Thanks" |
| 1999 | Iolanthe | Chorus, Set Designer, Costume Construction, Set Construction and Painting, Playbill Layout Chief, Calligrapher, Publicity Crew |
| 1999 | Foggerty's Fairy | Set Painting, Set Construction, Stage Crew |
| 2000 | Ruddigore | Chorus of Bridesmaids, Playbill Layout, Playbill Ad Chief, Costume Construction, Publicity Crew, Cast Photographer |
| 2000 | You Can't Take It With You | Set Designer, Playbill Layout, Set Construction |
| 2000 | Fourth of July Parade Float | Awarded First Place! |
| 2001 | The Gondoliers | Chorus, Costume Construction, Cast Photographer, Playbill Ad and Layout Chief, Archivist |
| 2001 | Blithe Spirit | Set Designer, Set Construction and Painting, Co-Graphic Designer |
| 2001 | Fourth of July Parade Float | Awarded Second Place! |
| 2001 | Fortieth Anniversary: Places, Please and Trial by Jury | Chorus |
| 2002 | The Sorcerer | Set Designer, Playbill Layout and Ad Chief |
| 2002 | Engaged | Set Designer, Set Construction and Painting |
| 2003 | Patience | Set Designer, Playbill Layout and Ad Chief, Archivist |
| 2003 | 1st Annual Fall Craft Fair | Co-Chair, Publicity Chief |
| 2003 | Hay Fever | Set Designer, Set Construction and Painting, Usher |
| 2004 | The Pirates of Penzance | Set Designer, Playbill Layout and Ad Chief, Archivist |
| 2004 | The Boys Next Door | Lobby Decoration, Usher |
| 2004 | 2nd Annual Fall Craft Fair | Co-Chair, Publicity Chief |
| 2005 | The Mikado | Set Designer, Playbill Layout and Ad Chief, Elected to Board of Trustees, Lobby Shoppe, Archivist |
| 2005 | The Matchmaker | Set Dresser |
| 2006 | The Grand Duke | Playbill Layout and Ad Chief, Board of Trustees |
| 2006 | California Suite | Usher, Set decor |
| 2006 | 4th Annual Fall Craft Fair | Co-Chair, Pubilicity Chief |
| 2007 | Iolanthe | Producer, Publicity Crew, Playbill Layout and Ad Chief, Constume Construction, Props, Cast Photographer, Lobby Shoppe, re-elected to the Board of Trustees, Archivist |
| 2007 | You're a Good Man, Charlie Brown | Publicity Chief, Lobby Shoppe |
| 2007 | 5th Annual Fall Craft Fair | Co-Chair, Pubilicity Chief |
| 2008 | The Yeomen of the Guard | Producer, Playbill Layout and Ad Chief, Lobby Shoppe, Board of Trustees, Archivist |
| 2008 | 6th Annual Fall Craft Fair | Co-Chair, Publicity Chief |
| 2009 | Utopia, Limited | Producer, Publicity Chief, Playbill Layout and Ad Chief, Lobby Shoppe, Board of Trustees, Archivist |
| 2009 | 7th Annual Fall Craft Fair | Co-Chair, Publicity Chief |
Induction Ceremony - February 28, 2009