September 2019 – In this issue:
A Christmas Carol – Auditions!
H.M.S. Pinafore – Two Ring Party, Auditions, and Performance Dates
Changes to our Membership Policy
In Memoria 
A Christmas Carol
The Sudbury Savoyards seeks six actors for our December production of Charles Dickens' A Christmas Carol, adapted and directed by Paul Dixon, and produced by Kathryn Denney. Performances will be at Longfellow's Wayside Inn in Sudbury, December 6th at 7:00 pm and December 7th at 2:00 pm and at the Omni Parker House in Boston, on December 15th at 2:00 pm.
Audition Dates: October 1st and 2nd, 7:00 pm
Callbacks: October 3rd, 7:00 pm
Audition Location: First Baptist Church of Sudbury,162 Landham Road, Sudbury, MA
No appointment needed.
We encourage anyone to audition – many of the roles are suitable for non-traditional casting. Since each actor will portray a variety of roles, we're looking for people who can successfully create a variety of characters. At auditions we'll be looking to see how you differentiate characters through voice, movement, and interactions with other actors. Finally, while an English accent is not required, it is hugely appreciated, and if you know accents of the different classes of 19th Century London, show it off!
HMS Pinafore coming February 2020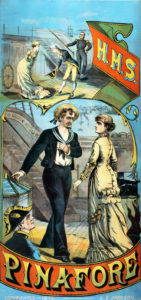 The Sudbury Savoyards is thrilled to present Gilbert and Sullivan's H.M.S. Pinafore February 21st to 29th, 2020 (a leap year!). Our favorite characters will tread the boards of the Pinafore anew: Josephine will love the lowly Ralph Rackstraw, fatherly Captain Corcoran will be baffled, the clueless Sir Joseph Porter (First Lord of the Admiralty) will be insufferable, Dick Deadeye will croak a dreadful warning, and sweet little Buttercup will hold her secrets. Things are seldom what they seem!
Two-Ring kicks off the Pinafore "season" 
Join us for the "Two-Ring," our gathering to reconnect and kick off the Pinafore season, on Sunday, October 27th at 5:00 pm. Expect good food, good company, and a sing-through of the Pinafore score. Food and drink contributions gratefully accepted (or as we say "Bring Something to Share"). 
H.M.S. Pinafore Auditions: November 3rd and 4th
LEAD AUDITIONS: Auditions are open format; you will sing, read from the script, and do some movement in front of other auditionees, as well as the Casting Committee (Stage Director, Jacqueline Haney; Music Directors, Lindsey Soboleski and Kathryn Denney; and Stage Manager, Nadine Sa). Prepare one verse or about 32 measures of a song in English that shows your strengths, preferably from the Gilbert & Sullivan repertoire or classic operetta/musical theater. Bring sheet music in your key for the accompanist, headshot and bio (if you have them); sides will be provided for readings from the script. There is no fee to audition; reservations are not required. The Sudbury Savoyards welcomes those of all genders, ethnicities and skill levels to audition! For more information, including character descriptions and vocal ranges, visit our auditions page.
CHORUS: All are invited to join in our chorus of sailors and cousins, sisters, and aunts (no audition needed), but you must attend one of our lead audition nights to sign up.
AUDITION DATES: Sunday, November 3rd, 2:00 – 5:00 pm, and Monday, November 4th, 7:00 – 10:00 pm. Callbacks (if needed) will be Thursday, Nov. 7th at 7:00 pm. Please arrive early to register.  LOCATION: First Baptist Church of Sudbury, 162 Landham Road, Sudbury, MA
PRODUCTION DETAILS: Rehearsals will be in several locations in the Sudbury area.  Performances (6) will be at Lincoln-Sudbury Regional High School on February 21st, 22nd, 23rd (matinee), February 28th, and February 29th (matinee and evening).
Membership Updates 
At the end of the fiscal year, the Board agreed on changes to simplify the membership process. Rather than being coupled to the fiscal year, membership will now be on a rolling basis, effective for one year from the month in which you sign up. We will send renewal reminders to members' contact addresses in plenty of time for renewal with no lapse.
Membership dues will remain at $25 (as they have been since we formalized membership), but we are now offering waivers based on several contingencies. On request, dues may be waived for:
anyone who has participated in a Savoyard show or other activity as a cast member, tech worker, or business/production contributor in the two previous years,
anyone who has made an unrestricted donation to the Savoyards of at least $25 in the previous year,
good-faith claims of financial hardship,
and for Savoyard Yeomen of Regard, who will be granted lifetime dues-free Membership.
We hope to roll out our new and improved Membership application process with our new website design in time for the upcoming kickoff activities leading to 2020's HMS Pinafore.
Thank you for your continuing support!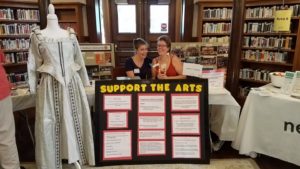 In Memoria
David Kehs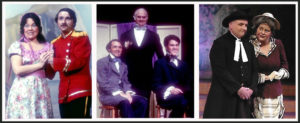 David R. Kehs passed away in Utah on July 21, 2019 as a result of a rafting accident. Dave entered the theatrical scene in 1977, playing Schroeder in You're a Good Man, Charlie Brown in Chapel Hill, NC. After completing his doctorate in computer science from the University of North Carolina he moved to New England in 1980 where his first experience with G&S was in The Sorcerer with the Maynard Savoyards.
Dave made his debut with The Sudbury Savoyards as Frederick in the 1981 production of The Pirates of Penzance. He appeared as Mr. Box in the 1983 production of Cox and Box, Leonard Meryll in 1985 The Yeomen of the Guard, Dr. Daly in 1992 and 2002 The Sorcerer, and other roles throughout the years. He last appeared as a steampunk pirate in 2014 The Pirates of Penzance.
Anne Rollins
Anne Rollins passed away on May 11, 2019 in Maine. Anne joined the chorus for the 2000 production of Ruddigore and continued both on and off stage through 2009, serving as Ticket Chief, publicity crew, costume, set and props construction, and House Staff.
Janet Daniel
Janet Daniel, 85, passed away peacefully on September 10, 2019. The Daniel family were members of SUMC and Janet worked behind the scenes while her husband, Mike, and daughters, Debra and Zoe, were on-stage for a number of years. She is survived by her husband Michael; son Alec Daniel; daughters Zoë Daniel and Debra Lustiber and her husband Paul; and 5 grandchildren: Graham, Maggie, Shannon, Sion and Maeve.