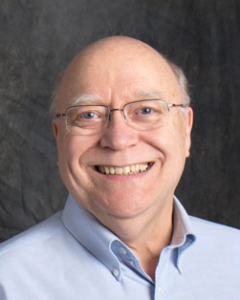 Jim came to the Savoyards in 1988 to take on the role of Assistant Music Director, and, at the same time, took on the stage role of Captain Corcoran in that production of Utopia, Limited. Jim returned as Assistant Music Director in 1991, and in 1993 and 1996 had the podium to himself for productions of The Pirates of Penzance and Princess Ida.
Jim switched from the conductor's podium to the stage manager's podium for six of our next twelve Gilbert and Sullivan shows, including an heroic and high-risk (no rehearsals!) transfer back to lead the orchestra when the music director was suddenly unable to conduct (aptly enough, this was for The Yeomen of the Guard, the namesake of the the current honor).
Jim became the backbone of the Sudbury Savoyard Summer Shows from 2006 to 2008, acting, building sets, playing rehearsal piano, or stage managing in consecutive shows, then stepping up as stage director and pianist for the 2013 Summer Show, The Fantasticks. Interspersed among those years and up to his return this year as stage director for The Mikado were stints as big-show technical director (The Gondoliers, 2013), stage director (Patience, 2015), and Summer Show manager (I Hate Hamlet, 2015), stage director (Maid to Order, 2016), and crew in multiple disciplines.
And of course, the Company requires significant year-round effort in logistical support, and since last year Jim has been our database manager, using his professional skills to contribute to the infrastructure that will assist the Company in maintaining its personnel, resource, and planning records for coming years.
| YEAR | PRODUCTION | ROLE |
| --- | --- | --- |
| 1988 | Utopia, Ltd. | Assistant Music Director, "Captain Corcoran" |
| 1989 | HMS Pinafore | Assistant Music Director |
| 1990 | Ruddigore | Assistant Music Director |
| 1991 | The Gondoliers | Assistant Music Director |
| 1993 | The Pirates of Penzance | Music Director |
| 1996 | Princess Ida | Music Director |
| 1998 | Trial by Jury / HMS Pinafore | Assistant Stage Manager |
| 2005 | The Mikado | Stage Manager |
| 2006 | The Grand Duke | Stage Manager |
| 2006 | California Suite | "Marvin Michaels", Set Construction and Painting |
| 2007 | Iolanthe | Stage Manager |
| 2007 | You're a Good Man, Charlie Brown | "Pig Pen", Rehearsal Accompanist |
| 2008 | The Yeomen of the Guard | |
| 2008 | Arsenic and Old Lace | Stage Manager |
| 2009 | Utopia, Limited | hired (then stepped down) as Music Director |
| 2013 | The Gondoliers | Technical Director |
| 2013 | The Fantasticks | Stage Director, pianist |
| 2015 | Patience | Stage Director |
| 2015 | I Hate Hamlet | Stage Manager, Assistant Director, Light and Sound Board Operator, Tech crew |
| 2016 | The Sorcerer | Sound crew, Database Manager |
| 2016 | Maid to Order | Stage Director, Set Designer, Set Construction and Painting, Database Manage |
| 2017 | The Mikado | Stage Director, Elected to the Board of Trustees for a 3-year term |