Sherlock Holmes: The Final Adventure
Sherlock Holmes: The Final Adventure by Steven Dietz was presented July 13 – 21, 2018, at Cannon Theatre, Littleton, MA.
Stage Director: James Ravan
Producer: Susan Elberger
Costume Design: Sue Flint
Props Design: Laurel Martin
Set and Sound Design: James Ravan
Lighting Design: Michael Bromberg
Stage Manager: Nadine Sa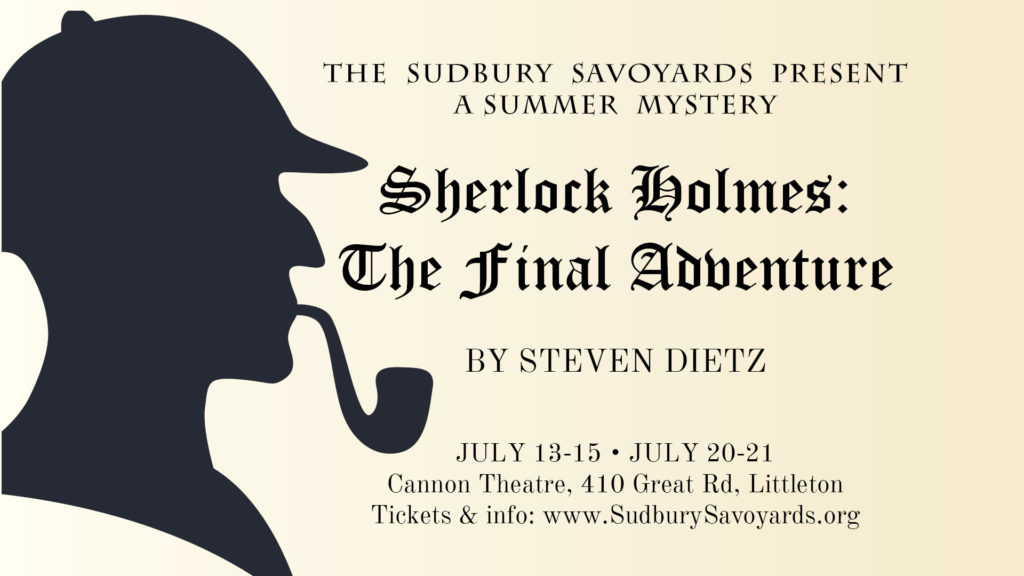 Featuring:
Robert Moore (Dr. Watson)
Julian Willard (Sherlock Holmes)
Terry Tamm (The King of Bohemia)
Alissa Luckey (Irene Adler)
Tom Richardson (Professor Moriarty)
Meredith Jones (Madge Larrabee)
David Foster (James Larrabee)
Frank Harrigan (Sid Prince)
Lillian Fountain (Ensemble)
Ellen Simmons (Ensemble)
Notes from the Director:
In July 2016, the Sudbury Savoyards presented Maid to Order, a farce with disguise as a major focus. We are back this summer with an entirely different kids of show but one that also involves disguise… and much more. Sherlock Holmes is an iconic figure in literature, theater, and movies. This play by Steven Dietz, is based on two of Arthur Conan Doyle's short stories, A Scandal in Bohemia and The Final Problem.
In it, Holmes has come out of self-imposed retirement to solve what become two interwoven cases. He is reunited with his friend and collaborator, Dr. Watson, and finally meets both his arch nemesis, Professor Moriarty, and the one love of his life, Irene Adler. There are currents and undercurrents as teh tension mounts along with bright flashes of dark energy, full of mystery, adventure, humor, and romance.